Homeowners Catastrophe Insurance – Difference in Conditions (DIC)
Simplicity at Your Fingertips
Introducing the first excess and surplus instant quoting platform from WNC Specialty for residential earthquake, landslide and flood insurance. For retail agents, it has never been easier. You supply the property address, and we provide the bindable personal lines quote for your client in seconds.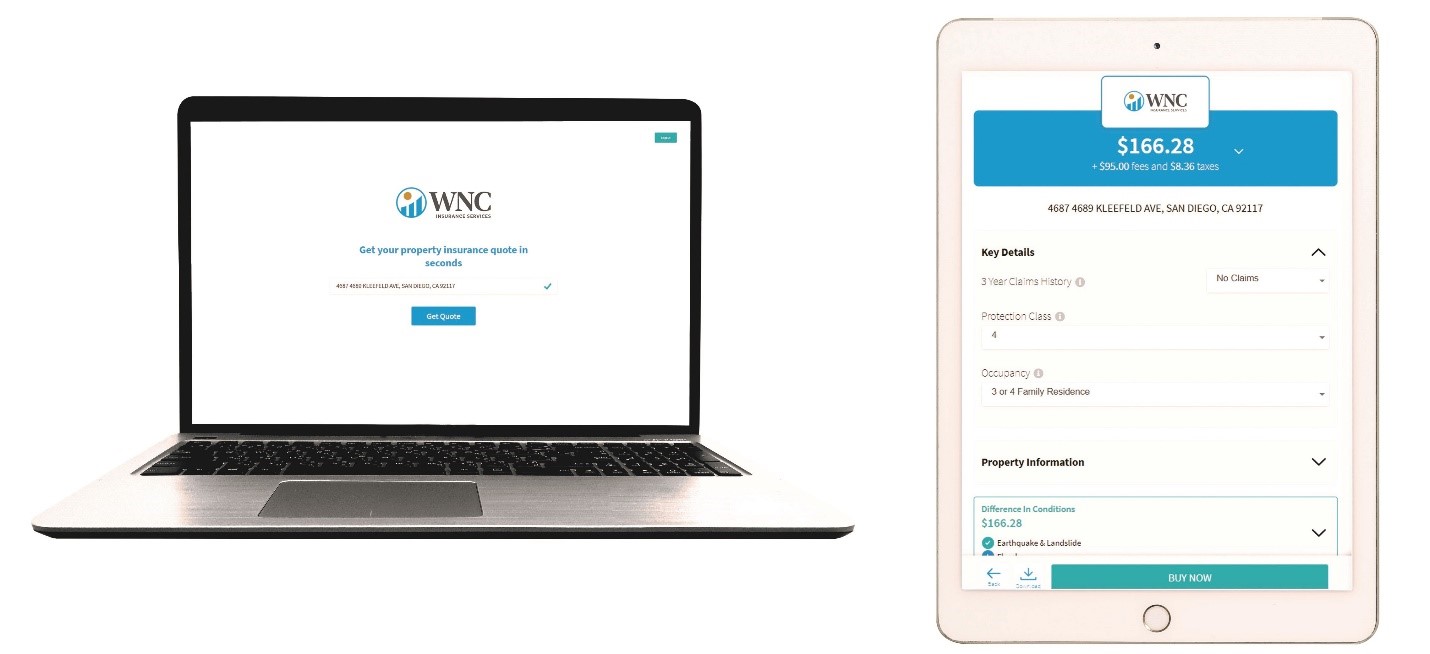 Here's What We Write
Homeowners Catastrophe Insurance – Difference in Conditions (DIC)
Earthquake, landslide and flood coverage for homes and dwellings in Arizona, California, Nevada, and Oregon
Primary, secondary, seasonal, vacant and renovation properties
Standalone earthquake/landslide coverages, and the ability to add flood when eligible
Coverage A limits from $75,000 to $2 million
Low deductibles from 5%
Payment options include credit card, ACH and escrow
Competitive agent commission and quote price
Here's How It Works
1. Create an Account
To create an account, submit your contact information and we'll reach out to you immediately to complete the appointment process.
2. Enter a Property Address
Once registered, log in at getquote.wncinsuranceservices.com and enter your client's property address — the only information required to create a quote in seconds.
3. Confirm the Coverage
Update the pricing in real-time by adjusting the coverages, limits, and deductibles to best meet your clients' needs.
4. Bind the Quote
Take payment, bind the quote and generate documents in a few easy steps, with no additional underwriting or approval required.
Why Choose Us?
WNC Insurance Services provides trusted, industry-leading coverage solutions, supported by compliance expertise, superior claim management and the highest caliber of customer service.
Customer Service. Experts are available to answer your questions and provide support via phone and email. Visit our website wncinsuranceservices.com for frequently asked questions, product details, and more information.
Data. With WNC's platform, you have access to a customized dashboard to provide you with quick information regarding policy status and more. Our proprietary algorithms provide you with real-time pricing updates and sustainable carrier relationships.
Claims. Claims are managed by our wholly-owned subsidiary, Precise Adjustments. Precise offers industry-leading claim administration and adjustment capabilities with dedicated and experienced adjusters to ensure claims are handled promptly and fairly.
WNC Insurance Services
899 El Centro Street, South Pasadena, CA 91030, US
Toll Free: (855) 811-2404
Phone: (312) 414-9950
Industry : Insurance